INDEX


Factions

Ranks/Stripes

Server Lobby / Game Types / Maps

In-Game HUD, Controls & Cameras

In-Game Scoreboard

Game Symbols / Glossary (coming soon)

Helium-3 & Boost (coming soon)



FACTIONS
There are two (2) factions - Government (Blue) and Pirates (Red). Currently, your team is assigned to you
randomly
upon connection to the game server.
Once the game starts, you can check which team you are on by hitting Tab to see the scoreboard.
While you are in-game, players who are on your team are represented with their names in GREEN and a GREEN streamer, or "contrail" while the enemy is represented with RED.
These colors can be switched to BLUE/YELLOW in the Steam version of the game for those who are color-blind. From the main-page of the Moon Breakers game, go to
Options / Controls / Color Shift
then
Apply Changes
to save your settings.
When people attack you, their name will turn ORANGE on the radar around the game-screen's edge. Similarly, the target you've attacked or last did damage to will appear in
GREY
.
RANK-STRIPES
Rank is indicated by the golden slashes next to players' names while in the Game Lobby. As far as we know, the ranks are gained according to how many experience bars you've managed to fill at the end of each match.
Rank 1 - Level 1 - 9
Rank 2 - Level 10 - ??
Rank 3 - Level ?? - 49
Rank 4 - Level 50+
Rank has no direct bearing whatsoever on the pilot's skill, number of ships unlocked, or how fully upgraded the ships they have may be, but can be used as a general indicator of how long they've been playing for, and possibly how many credits they've earned but does not indicate any He-3 purchased except thru the use / effect of boosts (which effect your credit earned and experience gained).
To err on the side of caution, it's generally safe to assume that a 4-Stripe pilot is worth keeping an eye on, but a 2-Striped skilled pilot can be just as deadly in a ship that's still being upgraded.
Note that before the Rank-Stripes were implemented the players' current experience levels were displayed in the Game Lobby, and levels of > 200 were already achieved by some of the more Veteran players.
SERVER LOBBY
Next Game Type - Search & Destroy (S&D/SnD/SD), Capture the Flag (CTF), Carrier Assault (CA)

Next Map Level - Broken Moon, Asteroid Field, Broadsides

A. Lobby Chat Screen / B. Click here to chat (sometimes appears mid-window)

Veto Next Game Type - A certain number of players is required to skip to the next match (~50%)

Veto Next Map Level - A certain number of players is required to skip to the next map (~50%)

Team Banners - Government (Blue) vs Pirates (Red)

Team Rosters - Players' names and their Ranks (see Rank-Stripes section above for more info on what those Stripes mean)

Ready - When a player is ready for the next match, they have the option of clicking the "Ready" button which will turn their status in the team rosters from grey to green; the player can enter the Hangar at anytime to select a ship for review/upgrade; Boost can also be purchased at anytime before the game starts; Quit will return the player to the Main Screen where they can select a different Region Server, go to Options, or Quit the Game.

GAME TYPE
CARRIER ASSAULT - Destroy the Enemy Carrier by taking out turrets and causing direct damage with heavy cannon fire, advanced torpedoes and nuclear warheads! All while defending your own Carrier from attack!

Each Carrier has a thin bar showing how much damage has been done (red) and remaining health (green). The blue/red bars below the Faction Banners in the top left/right corners of the in-game screen will also shrink in size to reflect how much health each Carrier has left.


CAPTURE THE FLAG - Steal the Enemy's Green Flag and bring it back to your own Flag Platform on the Tower-Side of your Carrier. At the same time make sure to Defend the very same Flag Platform on your Carrier against anyone trying to steal your Red Flag, which will only appear when stolen by the Enemy.

A Flag that's being carried will have a CIRCLE. A Flag that's been dropped will have a TRIANGLE.

After 20 seconds the Flags will start to flash slowly, then rapidly, and after ~30 seconds the Flag will re-spawn back on the Carrier Platform it belongs to unless picked-up and tagged by the flag-carrier (you get the flag just by flying into it). Flags CANNOT be returned and must be defended from capture until they re-spawn back on the Carrier. Flags CANNOT be dropped once picked up.


SEARCH & DESTROY - Team Death-Match mode. If it's RED, it's DEAD. Kill it! Kill it! Kill it! And try not to die...
GAME MAPS
Broadsides - Carriers in close proximity for fast, fierce battle.

Asteroid Field - A scattered field of grey asteroids, perfect for a fur-ball dog-fight, ambush from cover, or hit-and-run tactics.

Broken Moon - Fractured mass of red moon-rock that's riddled with tunnels, canyons and asteroids. Keep an eye on your tail!
IN-GAME HUD & CONTROLS
Throttle Speed: How fast your ship is flying. W increased throttle, and S decreases throttle (default keys). You can also use your mouse-wheel, where scroll-up/down is throttle up/down respectively.


Afterburner Fuel: Also known as "boost". Controlled by pressing down or tapping the space-bar.


Shields/Health: Regenerates over time. There is a 10 second delay after being damaged before shielding starts to regenerate and you start to regain health one 'bubble' at a time. If damage is taken during regeneration the 10-second delay will kick-in again, so fly fancy/hide/return to the carrier for cover. You should see full shields restored within 10-20 seconds from fully depleted depending on your ship class and model.


Primary Weapon Heat Gauge: When you fire your primary weapon, the gun/s will over-heat after a few seconds of continuous fire. When over-heated, the rate-of-fire is reduced or stopped completely, depending on what type of primary weapon it is, until the gun has 'cooled down'. See the Ship Statistics Chart to find out what weapons each ship has.


Secondary Weapon Armed: Dumb Fire Rockets, Beam Cannons, Short-Ranged Tracking Missiles, Tracking Missiles, Advanced Torpedoes, Nuclear Torpedoes. Each weapon has a different re-arming time, some require manual aiming, some have auto-tracking after acquiring a target lock-on, some have activation times POST-FIRE before detonating, etc. See the Ship Statistics Chart to find out what weapons each ship has.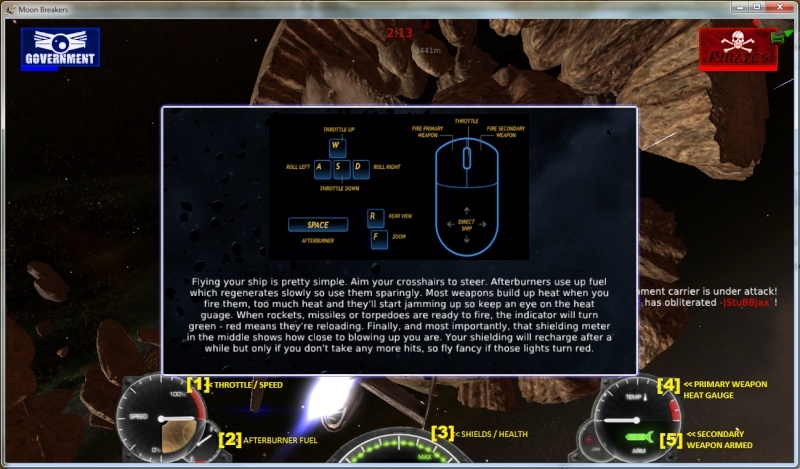 So... you've just started the game and want to know what the controls are! Where do you go then to find out?
If your game has started
and you want a quick reminder, you can
hit F1 to see the default setup
of controls on the keyboard and mouse for controlling your ship. Elements of the user-interface as related to the ship's controls in this current build (v3769) are indicated in
YELLOW
in the image below.
If you want to change the keys used, also known as key-bindings, you can do that too. Starting from the main-menu:
Go to
Options / Controls / In-Game Controls Screen
On this screen you can customize which keys are used for the functions listed. After making your changes, save them by clicking Apply Changes.
If you have made changes in the past but don't want to reset to the default settings, hit Apply Changes anyway to keep your custom key-binds.
In addition to the user controls, take note of the following that you can use in-game:
you can hit F1 for in-game user-info

you can hit F2 to find out the game mission before selecting your ship and anytime during play

you can hit Tab to find out which team you are on
Tab
is also an extremely useful tool and scoreboard of stats for viewing info about the game at a glance (see image example below). It will tell you who is playing, what teams they are on, what ships they're flying (indicated by model number, eg. F-3 aka Mamba), active bounties on specific players, kills, assist, torpedoes intercepted, torpedoes hit, turrets killed, flags picked up, returned, and captured, and bonus points in total for participating in all the actions mentioned previously.
There are additional key functions active that aren't listed, and these handle your view cameras:
F
for Forward/Zoom Camera
R
for Rear View/6 o'clock Camera
Left-Arrow
for Left-side/Portside camera
Right-Arrow
for Right-side/Starboard camera
Page Up
for Top-side/Zenith camera
Page Down
for Down-side/Nadir camera
[
and
]
for Default View Zoom In/Out
There is no first-person view at this point in time, but it has been mentioned to the Devs.
There is no Full-Screen capability either but the IMBA Developers have indicated that it will be out within the next Patch or so. They're working on it!

IN-GAME SCOREBOARD
Some scoreboards' details may vary according to the match being played. The example shown below is for Search & Destroy.
Pilot Names assigned to Government (Blue) & Pirate (Red) Teams.

Ship - currently flown by the Pilot, indicated by model numbers (eg. F-3, FH-250, X-99).

Bounty - Credit Bonus accumulated by the Pilot during a continuous kill-streak on a single life; (eg. 250, 500, 1000 credits bonus when killed).

Kills - Number of Enemy Ships killed by the Pilot, traditionally requires the "killing blow" or "killshot".

Assists - Number of Enemy Ships the Pilot assisted in killing by causing recent, significant damage to.

*Torps - Number of Torpedoes destroyed by the Pilot.

*Turrets - Number of Turrets destroyed by the Pilot.

*Hits - Number of successful impacts achieved by an armed torpedo on a Carrier.

Score - Bonus Creds/Points accumulated by destroying other ships, turrets, torpedoes, destroying the carrier, collecting bounty (by killing/staying alive), killing the Flag Carrer, picking up the flag (from the enemy base or anytime it's been dropped), capturing the enemy flag (by returning to the Flag Platform on your Carrier), etc.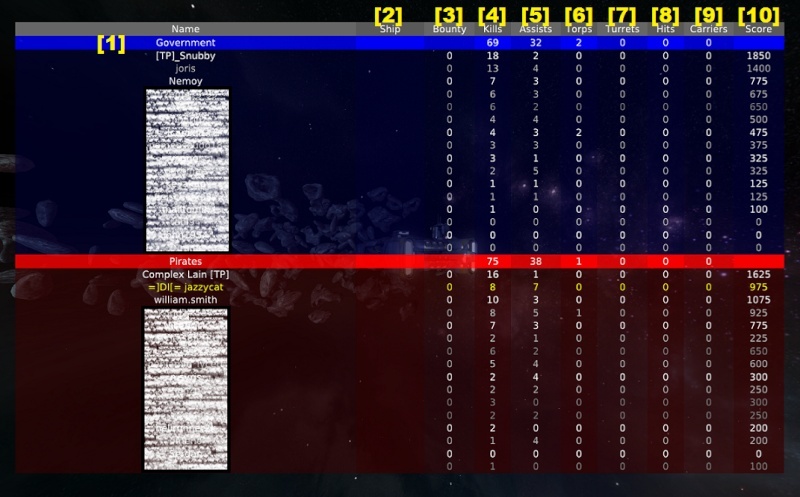 *
CAPTURE THE FLAG:
6b. Flag Kills
- Kill the Enemy Flag Carrier (EFC), as indicated by red flag icons. 75 points.
7b. Flag Pickups/Retrievals
- Picking up the Enemy Flag from the other Carrier (green circled flag icon) for 150 points, or retrieving it up whenever it's been dropped (green triangular circle flag icon) for 100 points.
8b. Flag Captures
- Bringing the Enemy Flag to your Carrier's Flag Platform. 200 points.
________________________________________________________________________________
04/08/2012: Updated CTF info with points rewarded for each objective.
15/06/2012: Updated Index with upcoming new sections, clarified Factions and contrail-id.
26/06/2012: Updated with Server Lobby, Game Type, Map Type sections.
30/06/2012: Updated with HUD detail explained briefly.
02/07/2012: Updated with Scoreboard.
Last edited by jazzycat on Sat Aug 04, 2012 6:10 am; edited 17 times in total

jazzycat




Posts

: 416


Join date

: 2012-06-05


Age

: 38


Location

: Australia



Looking good. Thanks. --wj

WJ




Posts

: 8


Join date

: 2012-06-04




SuPerKen




Posts

: 256


Join date

: 2012-06-04


Age

: 41


Location

: Alaska



Updated with Server Lobby, Game Type, Map Type sections; screen-shots / images and brief notes.
* note to self: get in-game visuals of each map; each game-type explain can/may be expanded on later by self or OTHERS *hinthint!*; add in game-symbols/icons next update later this week if not brain-dead from dayjob; this section will probably need an update with whatever new maps/content the Devs drop next


jazzycat




Posts

: 416


Join date

: 2012-06-05


Age

: 38


Location

: Australia



Is there a button to increase your graphics quality? If so, I keep bumping it -_-

Bhrome




Posts

: 21


Join date

: 2012-06-29


Age

: 30


Location

: Oregon



Heya Bhrome, thanks for posting.
Hmm, as far as I'm aware, no there is not. But after a crash or error I've noticed my Low/Normal/High settings under options for video quality sometimes change without notice.
If you can, set it to what you'd prefer (eg. High) and then every few games or so, and especially after a crash/error check the settings when the match ends. I'll start doing this too.
If it's switching about between all three settings
the Devs need to know about it.

jazzycat




Posts

: 416


Join date

: 2012-06-05


Age

: 38


Location

: Australia



Updated with Scoreboard, fixed a BBCode error or two.

jazzycat




Posts

: 416


Join date

: 2012-06-05


Age

: 38


Location

: Australia



Added points rewarded per CTF objective.

Thinking of re-structuring this post entirely, so the first post has only the index linking to each area of info in it's own following separate post (similar to the more advanced AFTAC Primer).

jazzycat




Posts

: 416


Join date

: 2012-06-05


Age

: 38


Location

: Australia




---
Permissions in this forum:
You
cannot
reply to topics in this forum